OFFICIAL POSTS
After two months of agony, the dot top end tables are finally done. The idea was simple, repurpose a couple of desks and add a fancy top. I started with a couple of student desks found at a junk shop in east Texas. As you can see here, the desks had a good bit of […]
Ok, I admit that I actively look for products that are made in the USA. I generally value the quality of goods made in the USA and a few other countries like Germany, Japan and Switzerland, though Canada does make some fine sand paper. If businesses want to manufacture their products elsewhere that's fine, but I've […]
Just received my new Craftsman 239 pc. Easy-to-Read Mechanics Tool Set. It's amazingly easy to read, especially when it includes messages like this right out of the box.
I've sensed this for quite some time now, and it all came into focus yesterday. Salesmanship is dead. Yesterday was BBQ grill shopping day, and it started at Home Depot. It's great to have a salesperson available when I'm ready to discuss a potential purchase, but I spent more time during the first ten minutes […]
The topic of critique strategies is certainly something that art & design educators struggle with. To this end, we hosted a FATE critique workshop here at SHSU this weekend. There were some fantastic ideas demonstrated by Chris Ireland and Valerie Powell, as well as great discussion generated by Kansas State Faculty Shreepad Joglekar, Erin Wiersma, […]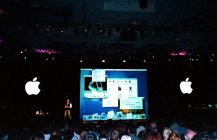 Looking through some old photos today and found this. Summer 2000, San Francisco Seybold Conference. This was before Apple started limiting their conference participation, and I was lucky enough to be there for the keynote presentation.